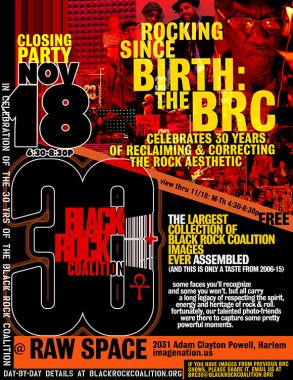 Rocking Since Birth: The BRC Celebrates 30 Years of Reclaiming & Correcting the Rock Aesthetic
Gallery Show and Closing Party (11/18, 6:30-8:30p) featuring a set from DJ La Obscura
at ImageNation's RAW Space, 2031 Adam Clayton Powell Blvd (btw 121/122)
Viewings thru 11/18: M-Th 4:30-8:30p
FREE
In 1986, BRC Co-Founder Vernon Reid told John Lelund of Spin Magazine, "Blond, long hair, white. Our organization is a direct challenge to that mentality, that imagery. Because FIRST, ROCK IS BLACK MUSIC. Rock is everyone's music, but the origins of rock are Black. And there's no way you can get around that." 

Here, we've put together our largest collection of images from recent BRC events…and we've barely scratched the surface. The images here cover just a handful of shows from 2006-2015, but many of our heaviest hitters are front and center.

Come see a few of the geniuses who've always kept sight of the true roots of rock and roll. And see them through the eyes of some of the best live photographers out there.
---
These photos were captured by Earl Douglas, Jr., Petra Richterova, Scott Ellison Smith, Ed Marshall, Nivea Castro, Radcliffe Roye, and Joe Conzo at various BRC-produced events.