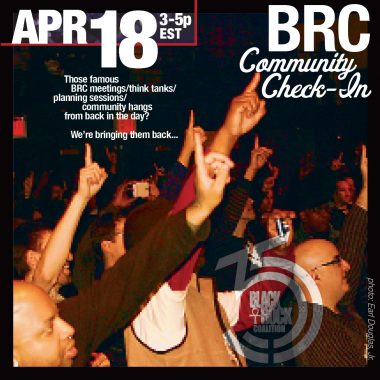 The download codes are ready for our BRC 35th Anniversary Compilation—Rock 'n Rock Reparations, v. 4. Thanks to all the artists who've shared music. Now that we've done the hard work of picking the songs that best represent what Black self-determination, Afrofuturism, and the BRC have to offer in this anniversary year, we look forward to sharing it with you. Email BRC35@blackrockcoalition.org with "V4 Code" in the subject and we'll get it out to you. Hope y'all enjoy.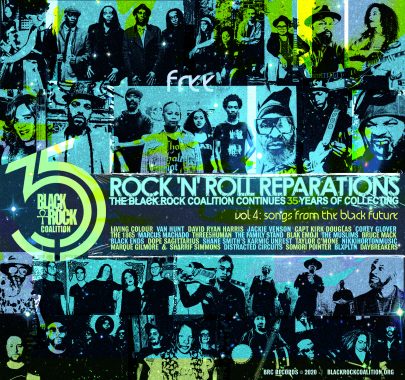 A 4-day marathon of BRC memories, performances, discussions, and music.
---
Eternal appreciation to Joi, Kat Dyson, Maureen Mahon, Honeychild Coleman, DJ Reborn, Nona Hendryx, Will Calhoun, Kevin Strait, Rob Fields, Petra Richterova, William Helms, Angelo Moore, Chris Metzler, Lev Anderson, Fishbone, DJ Logic, David Ryan Harris, Konda Mason, Greg Tate, Vernon Reid, Craig Street, Flip Barnes, and DJ Greg Caz for joining us live in the room for some pretty amazing discussions. An additional shoutout is due to the BRC OGs who came through throughout the event, some of whom gave video interviews which will be shown in social media later. In particular, Don Eversley, Bill Toles, Jared Michael Nickerson, Jan de Silva, Michael Hill, Jimmy Saal, JT Lewis, Melvin Gibbs, Kelvyn Bell, Bevis Griffin, Beverly Jenkins, Marque Gilmore, Tracie Morris, Jimi Hazel, Rick Skatore, Chuck Brownley, and so many others.
And beaucoup thank yous to Living Colour, David Ryan Harris, Van Hunt, Faith, Sophia's Toy, The 1865, Jackie Venson, Blak Emoji, The Oxymorrons, Tamar-kali, Model Decoy, 100 Watt Heart, Militia Vox, Burnt Sugar The Arkestra Chamber, Marcus Machado, Stew, The Family Stand, Three5Human, Dope Sagittarius, Thaylobleu, Slapbak, Band Of Gypsys Revisited Band, Screaming Headless Torsos, and Shelley Nicole's BlaKbüshe for sharing rare, exclusive, or little-seen live video performances.
And for those of you who joined us for one hour or for all four hours on all four nights, THANK YOU. We are community. We could not have gotten to 35 years without it.
---
---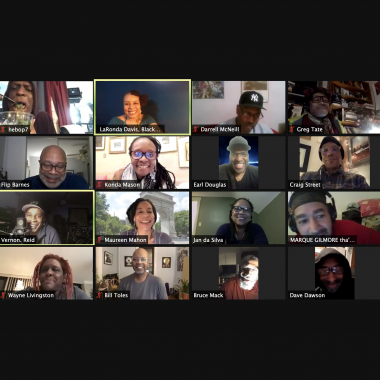 To share our community's thoughts from inside the Corona Virus Pandemic, the Black Rock Coalition has released the second issue of our "Make Me Wanna Holler" anthology series. We thought it was important to ask some of our favorite people, from across the artistic spectrum, to express how they are coping, creating, and maintaining during this unprecedented moment in history.
---
Featuring writings by M. Kumasi Rogers, Brian Tate, Kamara Thomas, Kelsey Warren, Meshell Ndegeocello, LaRonda Davis, Melvin Gibbs, Malxolm Brixkhouse, QADR, Leron Thomas (Pan Amsterdam), Sandra St. Victor, V. Jeffrey Smith, Peter Lord, Leah King, Darrell M. McNeill & Earl Douglas, Jr.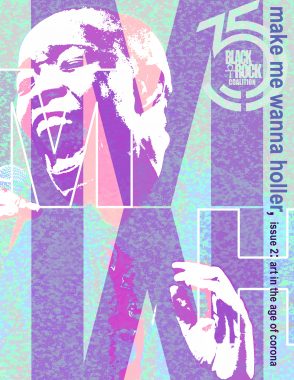 ---
Ronny Drayton, guitar god, legendary human, and BRC fam, would've turned 67 on May 19. Because the world shut down before we could plan a proper send off, we wanted to join everyone together online to celebrate his life and influence on the day of his birth.
We asked people who loved him to post the picture above with their favorite Ronny story and the hashtag #RememberRonny. We wanted to give the world a small glimpse of the impact he had on the lives of so many. 
For all he's done for the community, we owe so much back.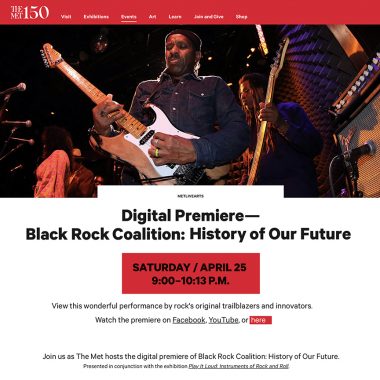 For those of you who couldn't get a ticket to our sold-out show at the Metropolitan Museum of Art last year, the Met gave folks a chance to see what they missed. For FREE. In memory of the incomparable Ronny Drayton.