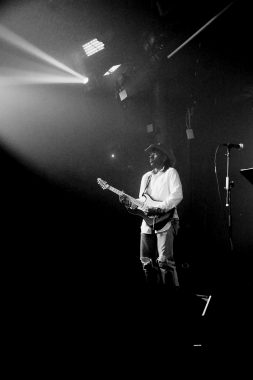 by Greg Tate
---
Ronny Drayton is—is  and not was— a revered and influential New York City born and bred  guitarist whose astounding innovative sound traversed multiple genres and continents over a career five decades in length and of considerable, immeasurable impact. That sound was marked by a penetrating tonal charisma (which accounts for his nom de plume 'Draymen') and a laser-like precision while shredding—one which bespoke an energy and  a dramatic sense of economy akin to his idols, blues guitar master Albert King, and postbop saxophone eminence, Jackie McLean. 
Miles Davis liked to say, "All I need is one note, and I gotcha." Same holds true for the Draytone—from his wirepulling to your solar plexus at the speed of sonic thought.
Drayton, born May 19, 1953, in Jamaica, Queens, NY was raised in an extremely  musical community  where he began as a drummer before switching to guitar in his early teens. He was soon recognized as a striking, singular voice on the instrument as both a sui generis soloist and pocket-locking rhythm guitarist. These qualities increased exponentially over a journeyman career marked by  stellar contributions to many forms of progressive music—funk, punk, pop, fusion, soul, new wave, hardcore metal, harmolodic,  even hiphop, if we count the  ledger of looped 'Draytone' scoops.
Drayton's fledgling gigs in the early 70s included sideman stints  with The Chambers Brothers, Wilson Pickett, Roy Ayers— he left his mark on Ayers' classic Everybody Loves The Sunshine—and Edwin Birdsong.   
It was with Birdsong that Drayton made his major recording debut in 1974 on the album Super Natural, produced  at Electric Lady Studios, the house Jimi Hendrix built,  with Jimi's mainstay engineer, Eddie Kramer.          
So impressed was Kramer by the ax wunderkind from Queens that he gifted Drayton with a heirloom Stratocaster Hendrix had left in Kramer's care. 
Vernon Reid of Living Colour acknowledges that Super Natural had  a massive  influence on his decision to professionally pursue rock guitar: Reid reflects, "Long before I had the honor of becoming his friend, Ronny Drayton was a big brother mentor to me. His astonishing playing on Birdsong's Super Natural radically altered what I considered possible on electric guitar. "
In the early 80s Drayton performed and appeared on two major albums by harmolodic improv maestro James Blood Ulmer, Freelancing and Black Rock; in the 90s Drayton and Ulmer connected again for Blues Preacher and Black and Blues.
The guitarist was a member of Joseph Bowie's Defunkt  for nearly four decades, appearing with maximum authority on the group's stunning 1988 Island Records disc, In America.
Drayton was also lead guitarist and musical director  for the Amazonian and electrifying vocalist, composer, educator  and activist Nona Hendryx over several decades. He can be heard on Hendryx' pivotal album Nona in 1984 and on later releases, 1985's The Heat and 1987's Female Trouble; Mutates Mutandis in 2012, and the unreleased Drama Queen recorded in 2016. Hendryx provides this tribute:  "Ronny was my musical Brother, soul mate and my musical guide through the universe of music, Funk, Rock and otherwise.  His musical legacy and influence will resonate in me until the end of my life and the lives of others and will vibrate through out the universe forever" 
Drayton also toured in 2008 with the reunited edition of the legendary rock&soul vocal trio Labelle, featuring Hendryx, Sarah Dash and the great Patti Labelle.  Labelle's post-millennial reunion recording,  2008's Back To Now features Drayton's guitar work too.          
Drayton  joined The Family Stand in 1994, performing on their  much beloved and ballyhooed Moon In Scorpio album, and touring internationally with the group as well. 
A list of Drayton's other notable  recording credits includes sessions with Me'Shell Ndegeocello, Alicia Keys, Sandra St Victor, David Sylvian (of Japan), The Jones Girls, Kasha, Fred Schneider (of The B-52s), Bill Laswell's Material, Jamaladeen Tacuma, Melba Moore and Anne Murray. 
Drayton was a stalwart member of the Black Rock Coalition from the git-go, and appeared frequently as a guest artist  with the BRC Orchestra from 1986 onwards. He also often guested with Burnt Sugar The Arkestra Chamber in the 2000s, most recently as musical director for the ensemble's repertory program, 'Fleetwood Black' at Lincoln Center in 2015.
More recently, Drayton joined forces with the  revived  heavy metal-soul unit, 24-7 Spyz, alongside founding members Jimi Hazel and  Rick Skater, and ex-Fishbone, drummer Phillip Fisher. Drayton's  scintillating playing and riveting composing can be heard on the Spyz reboot release, 2019's Soundtrack To The Innermost Galaxy. 
Drayton was also a dedicated martial artist for much of his adult life, developing special proficiency in the close quarters fighting-form Wing Chun, which he taught to his son, Donovan Drayton.
For  many in Drayton's creative community the higher benchmark of his legacy is to be found in the indefatigable efforts he put forth to prove Donovan innocent of false murder charges—ones which kept Donovan locked up for five years on New York's notorious Riker's Island. Two grueling and expensive justice-demanding trials were required before Donovan's full acquittal was won. 
Drayton is survived by his son Donovan, and his two grandchildren, Liam King Drayton and Royal Drayton parented by Donovan and his partner Courtney Johnson.