THURSDAY, NOVEMBER 2, 2017, 8pm
We took our rip-roarin' Black Rock Coalition Get-Down Revue out west for an encore performance of choice cuts from the Atlantic Records R&B box set. It was a celebration of the pioneers of early rock & roll who called the label home from 1947-1974 and the amazing artists who continue that legacy today. With Luqman Brown (bandleader/vocals), Jared Michael Nickerson (bass), Shelley Nicole (vocals), Ben Tyree (guitar), V. Jeffrey Smith (sax), Lewis 'Flip' Barnes (trumpet), Leon Gruenbaum (keys), and Greg Gonzalez (drums).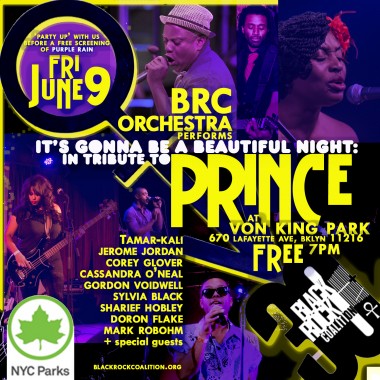 FRIDAY, JUNE 9, 2017
Von King Park, Brooklyn, with New York City Parks Department
photos by SeanJamar.com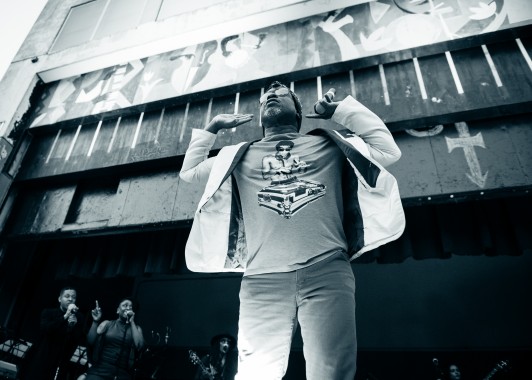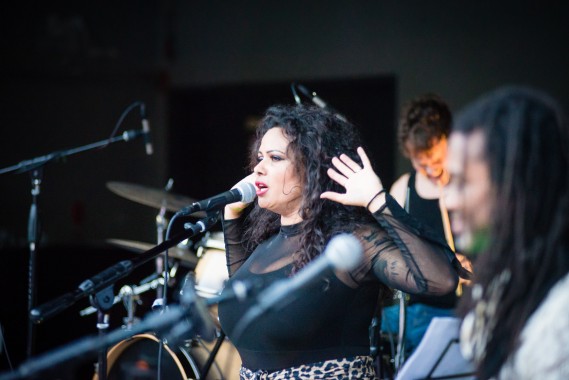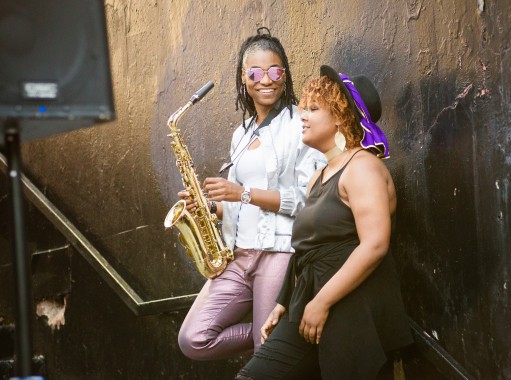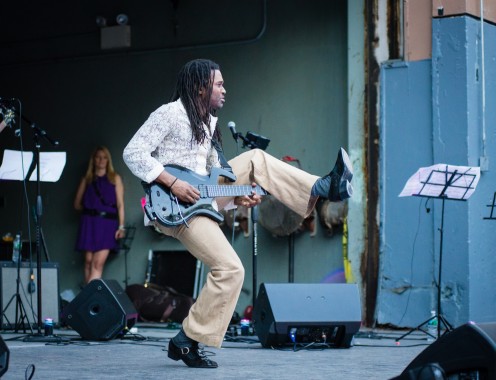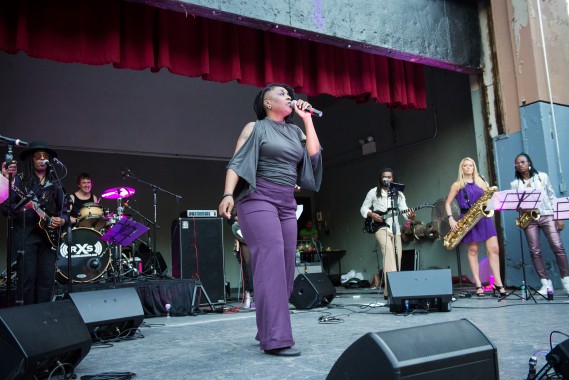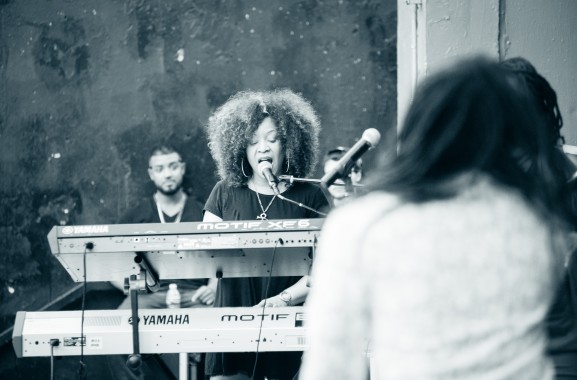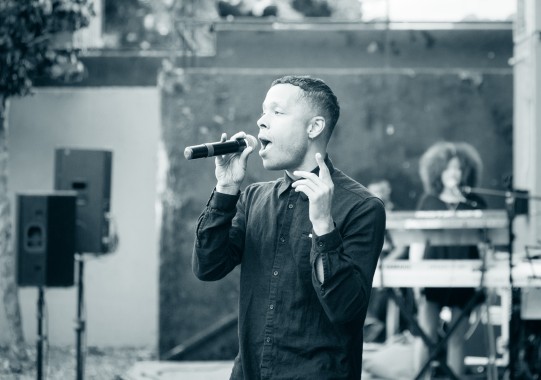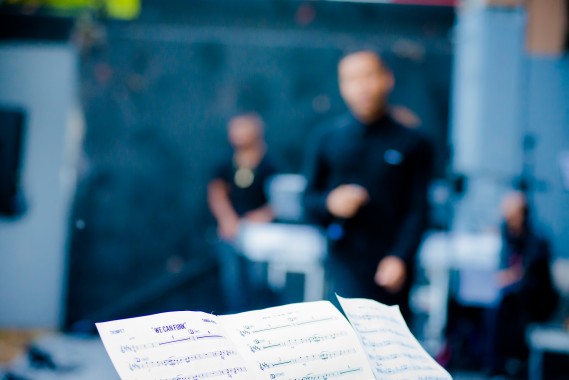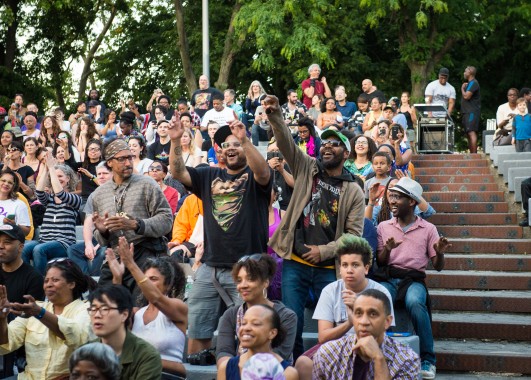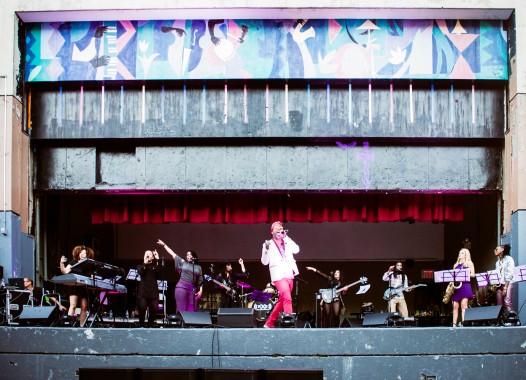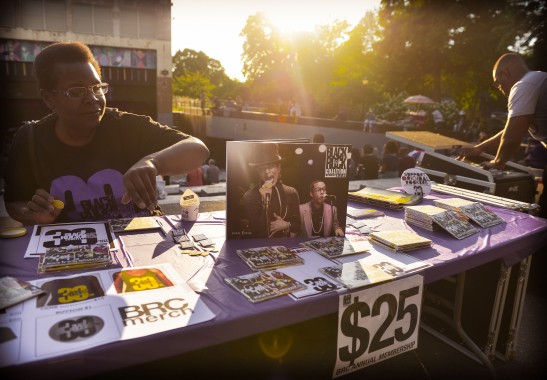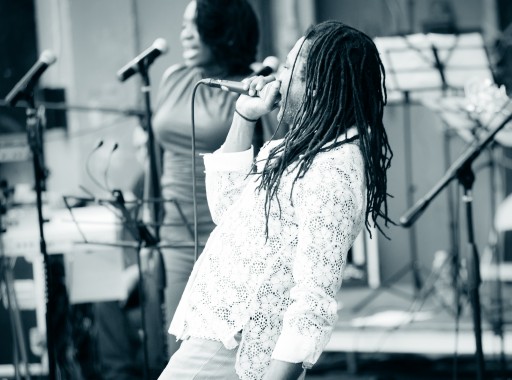 photos by LaRonda Davis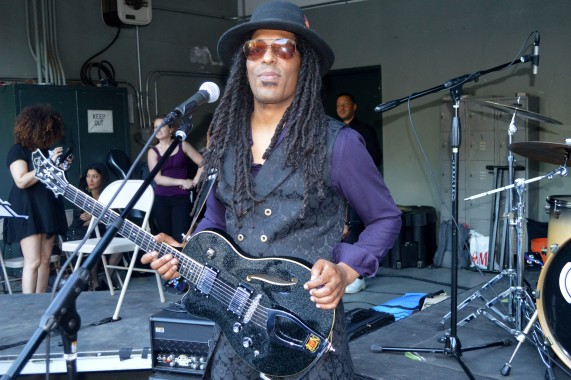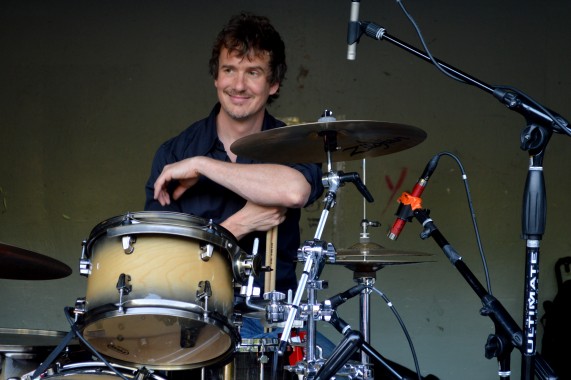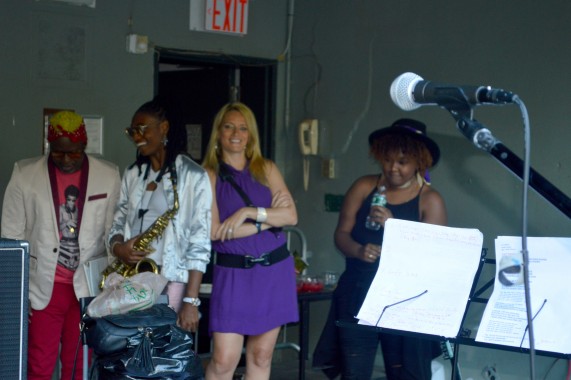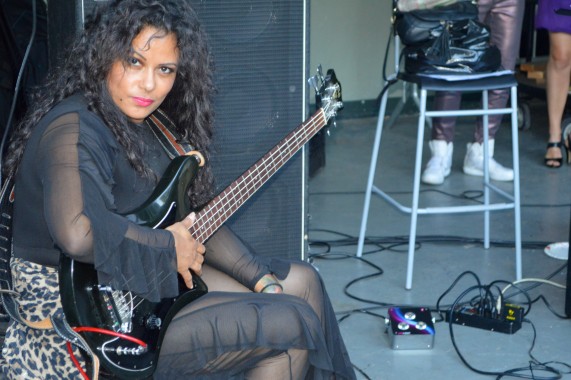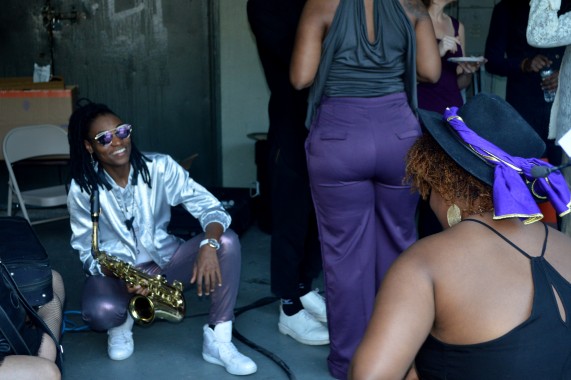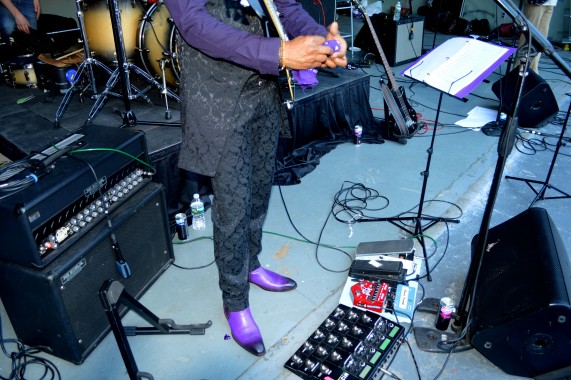 ---
Prince was one of us. A rocker. Black and musically outspoken with depths that plumbed generations. That's why we celebrate him. For us, he is more than a symbol, more than Purple Rain, more than a pimp rag, tootsie pop, and a cane (thankfully). He was living, breathing possibility. Giant inspiration in a 5-foot-plus frame. A roadmap to a different way.
---
In celebration of what would have been Prince's 59th birthday, The Black Rock Coalition Orchestra dipped into the vault for IT'S GONNA BE A BEAUTIFUL NIGHT, a rousing remembrance under the musical direction of lifetime fan and rock-royalty-in-her-own-right, Tamar-kali. This bittersweet reflection, paced out by show-stopping bandleader Jerome Jordan, conjured B-sides, bootlegs and bonuses from over 11 album eras. With a Supergroup-backing band (including Cassandra O'Neal from the New Power Generation, Sylvia Black of Betty Black, Sharief Hobley of Sharief in Burgundy, and Mark Robohm), a parade of top-notch vocalists (such as Corey Glover of Living Colour, and Gordon Voidwell of WILLS, and a full slate of special guests on horns and strings, this soul-satisfying, booty-shaking performance reminded us all of what music can do when the people who make it are free to create outside the lines. Following the performance, there was a screening Purple Rain. All in partnership with New York City Department of Parks & Recreation.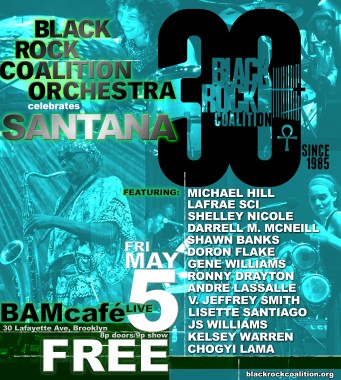 FRIDAY, MAY 5, 2017
BAMcafe Live
---
The BRC Orchestra, the all-star repertory company of the Black Rock Coalition, performed a focused retrospective on the music of legend Carlos Santana for May 5 (Cinco De Mayo): "Santana Redux with The BRC Orchestra," as a nod to the collaborations of Black and Latino rockers and to Santana's Mexican heritage. Santana, an often-cited influence for many Black rockers—including Prince and BRC co-founder Vernon Reid—is a rare legend whose half-century of work cuts across multiple genres, cultures and generations. Santana was a steadfast champion of many Black pioneers, like Jimi Hendrix, Miles Davis, B.B. King, John Lee Hooker and John Coltrane—"Santana Redux" is a showcase for the BRC to pay the legend back in kind.
A bittersweet, but triumphant, finale to our 15 years of fantastic shows at BAMcafe. We will miss what we had there, but that was just the beginning…
In a rousing revival of our Black Rock Coalition Get-Down Revue, we kicked off our 32nd year of mission-oriented programming with an encore performance of choice cuts from the Atlantic Records R&B box set in celebration of the pioneers of early rock & roll who called the label home from 1947-1974.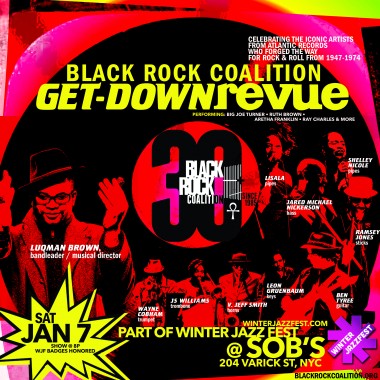 It was a certified dance party, featuring:
Luqman Brown – Musical Director/Bandleader
Jared Michael Nickerson – Bass
Ramsey Jones – Drums/Vocals
Ben Tyree – Guitar
Leon Gruenbaum – Keys
V Jeffrey Smith – Horns
Wayne Cobham – Trumpet
JS Williams – Trombone
Lisala – Vocals
Shelley Nicole – Vocals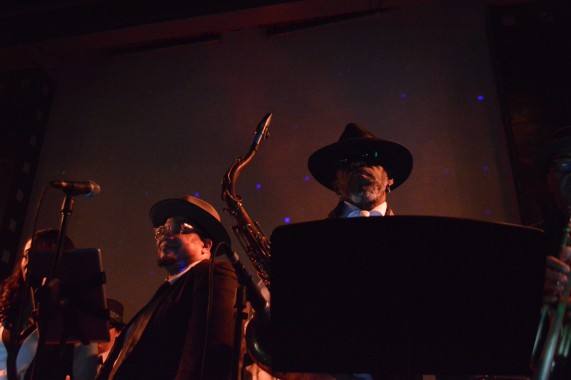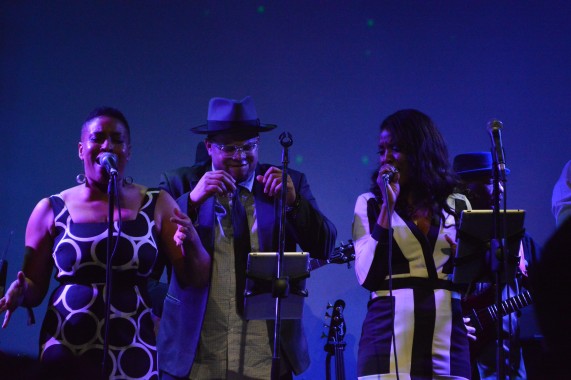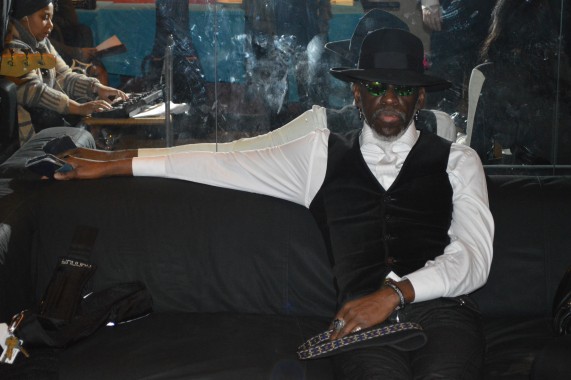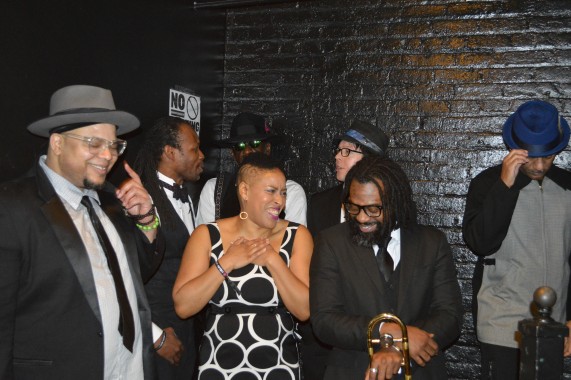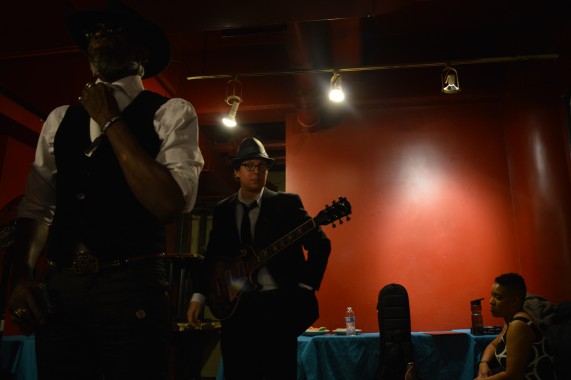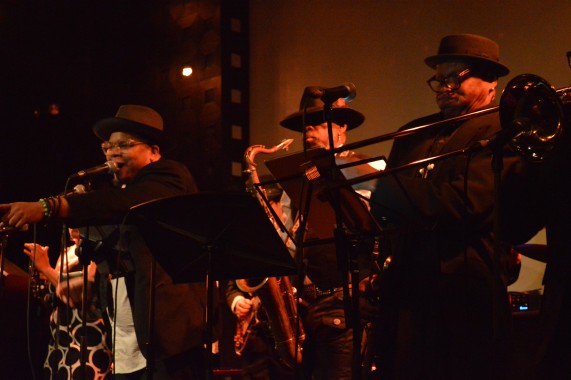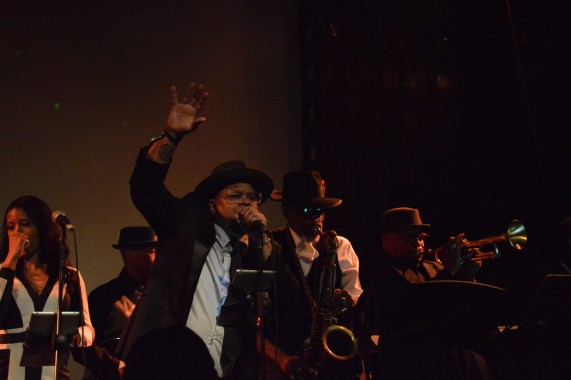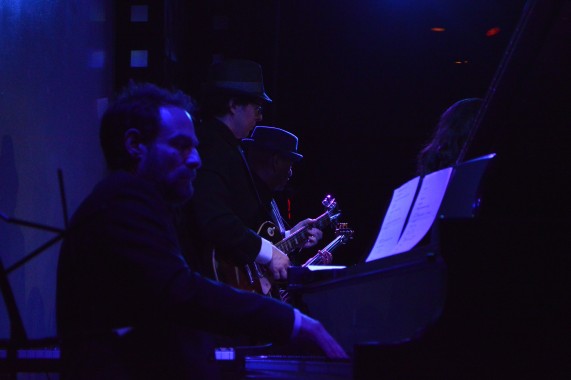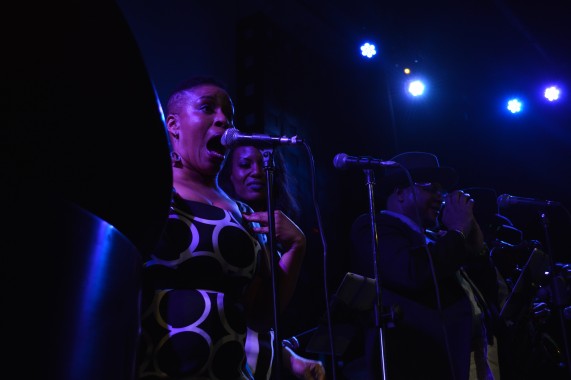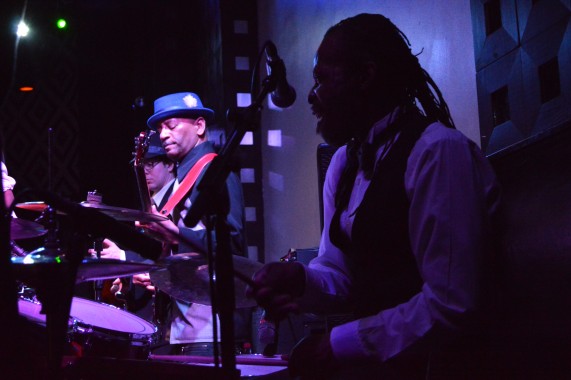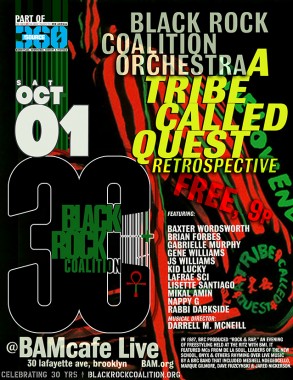 Saturday, October 1, 2016 @ BAMcafe Live
---
The Black Rock Coalition Orchestra's Tribe Called Quest Retrospective
---
Long recognized as one of the greatest hip-hop collectives of all time, A Tribe Called Quest took the genre to new heights sonically and lyrically by combining street beats with jazz influences—a style and a sound that laid the groundwork for new genres like acid jazz, trip hop, and drum and bass.
As part of SOURCE360 Festival, the BRC Orchestra paid respect to these hip-hop icons with a program that showcased some of the group's best work, along with choice album cuts from classics like People's Instinctive Travels And The Paths Of Rhythm, Low End Theory, and Midnight Marauders. The program also honored founding ATCQ member Malik 'Phife Dog' Taylor (who passed away in March 2016), and Weldon Irvine, a distinguished composer and teacher who mentored the group and many others within the BRC circles.
---
Part of the SOURCE360 Festival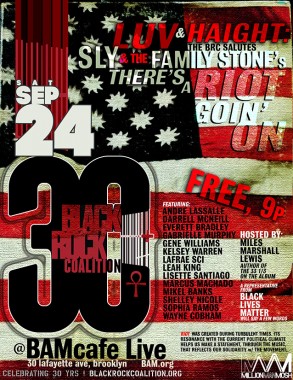 Saturday, September 24, 2016 @ BAMcafe Live, 9p, FREE
---
Luv n' Haight: The BRC Salutes Sly & The Family Stone's There's A Riot Goin' On
---
There's A Riot Goin' On was created during turbulent times. Its resonance with the current political climate helps us make a statement, through the music, that reflects our solidarity with today's Black Lives Matter movement as well as other social-minded, action-based organizations. This performance also continued our Million Man Mosh initiative of bringing artists, activists, and fans together to move the needle for social change.
---
Hosted by Miles Marshall Lewis, author of There's A Riot Goin' On from the 33 1/3 book series
with words shared by Carmen Dixon, a representative of Black Lives Matter, New York Chapter
---
Saturday, July 2 was the world premiere of the BRC Get-Down Revue. MD Luqman Brown assembled a killer crew of crack cats who to make booties shake to hits from the Atlantic Rhythm & Blues Box Set—celebrating the genius of Ray Charles, Ruth Brown, Big Joe Turner, The Coasters, and more. With DJ Monica Sharp at the famous Midsummer Night Swing at Lincoln Center.