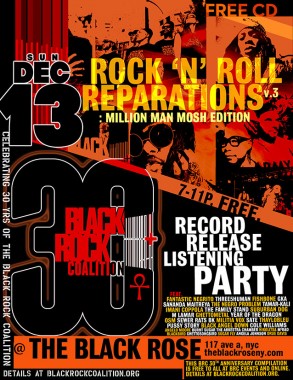 FREE PARTY. FREE MUSIC. FREE NEGROES MAKING REAL MUSIC.
Shout out to compilation artists Imani Coppola, Jason BK (of Sewer Rats BK), M. Lamar, GKA, Militia Vox, Omega Sirius Moon, Drue Davis, GhettoSongBird (all the way from Philly!), and Luqman Brown (of BuddhaBug Records) for coming out and helping us blast this important music all throughout the LES. Also, thanks to all the BRC fam who was in the house and to The Black Rose for showing us another good time.
More to come…
---
We continue our commanding ROCK 'N' ROLL REPARATIONS series with Volume 3: The Million Man Mosh Edition. It features songs by some of our most dynamic outsider voices as they express sonic social commentary on the world we're living in today. Discover new favorites from Fantastic Negrito, Fishbone, Sananda Maitreya, Three5Human, GKA, Stew and The Negro Problem, Tamar-kali, Imani Coppola, The Family Stand, Suburban Dog, M. Lamar, GhettoMetal, Year Of The Dragon, Omega Sirius Moon, Sewer Rats BK, Militia Vox, SATE, Thaylobleu, Pussy Story, Black Angel Down, and Cole Williams. The extended digital download also includes culturally-conscious tracks from such talents as Burnt Sugar The Arkestra Chamber, The Ki Ki Experience, Angelo Moore and The Brand New Step, Nikolitsa, McRad, Blackbird/Shane Smith, GhettoSongBird, Sugar Fly, Angela Johnson, and Drue Davis.   It's all to continue the celebration of 30 years of the BRC doing what we do to support artists who are reclaiming their birthright to rock.