ROCK 'N' ROLL REPARATIONS, V3: MILLION MAN MOSH EDITION
---
– For a free digital download code, send an email to BRC30@blackrockcoalition.org with 'code' in the subject.
---
– For a free copy of the CD, come see us at the next BRC event (send an email to BRCmembersinfo@gmail.com to be added to our weekly newsletter, 'This Week in Black Rock' for updates).
---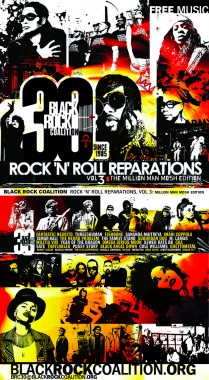 ---
A FREE compilation of socially-aware tracks by over 30 Black rockers to celebrate the 30th Anniversary of the Black Rock Coalition. This 3rd installment of our Rock 'n' Roll Reparations series is themed for our Million Man Mosh initiative and features conscious tracks by the following:
– Fantastic Negrito (LA)
– Fishbone (LA)
– Sananda Maitreya (Milano)
– Three5Human (ATL)
– Sewer Rats BK (Brooklyn)
– The Negro Problem (Brooklyn)
– Tamar-kali (Brooklyn)
– M. Lamar (Brooklyn)
– GhettoMetal (LA)
– Imani Coppola (Brooklyn)
– Cole Williams (New Orleans)
– SATE (Toronto)
– Thaylobleu (Washington DC)
– Militia Vox (NYC)
– GKA (Brooklyn)
– Year of the Dragon (LA)
– The Family Stand (NJ/LA/Netherlands)
– Pussy Story (Santa Monica/Brooklyn)
– Suburban Dog (NJ)
– Black Angel Down (Baltimore)
– Omega Sirius Moon (OSM) (Brooklyn)
---
PLUS an extended, digital download featuring additional new classics from:
– Angelo Moore & The Brand New Step (LA)
– Burnt Sugar The Arkestra Chamber (NYC)
– Sugar Fly (LA)
– GhettoSongBird (Philly)
– McRad (Philly)
– The Ki Ki Experience (NYC)
– Drue Davis (Brooklyn)
– Nikolitsa (Santa Monica)
– Blackbird/Shane Smith (LA)
– Angela Johnson (NJ)
---
It's our most geographically- and musically-diverse collection. Representing Black rockers and progressive musicians from around the world on a socially-poignant journey from outrage to reflection to action to progress.
Another BLACK ROCK COALITION RECORDS release…